Monday, June 13th, 2022
What does climate change mean to YOU and to our community? An introduction to climate change action at the local level was presented. Hear how the City of Charlottesville, Albemarle County and UVa are working together with the local climate collaborative to address climate change issues. And learn YOUR role.  The meeting was moderated by Sue Friedman, Senior Statesmen president.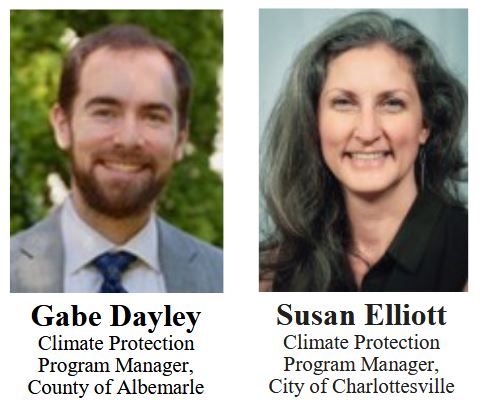 Program Summary
Click here to see the PowerPoint slides that the speakers used.
Click here to see a video of the event.
Our past programs on climate issues have focused on state and regional efforts while this program focused on local programs and initiatives. Gabe Daley, climate protection manager for Albemarle County; Susan Elliot, climate protection manager for the City of Charlottesville; Andrea Ruedy Trimble, sustainability director for the University of Virginia; and Susan Kruse, executive director of the Community Climate Collaborative were the presenters. The goal of all these groups is to decrease greenhouse admission by 2050 and developing an environment that does nothing to increase emissions.
Collecting accurate data is a shared goal of the groups. Greenhouse Emission Inventory is used by both the city and county. Since Virginia is a Dillon Rule state, policy models need to be consistent with state regulations and cannot be locally determined. In our area 50 percent of greenhouse gas emissions come from transportation and 40 percent from buildings. Since three-quarters of transportation emissions come from a single driver in a car, improving the options to reduce this is necessary. Better public transportation, sidewalks, bike lanes, landscaping to provide shade are being developed to encourage leaving the car at home. The city, county and UVa are all looking at electric buses and "greenfleet" programs. At UVa, infrastructure initiatives include geothermal wells, increased use of sustainable building products and solar panels. Paying for these improvements is an ongoing concern. Grants and federal funds help and UVa has several hundred thousand feet of roof space which can be rented for solar panels. Each presenter concluded with website links and encouraged the audience to get involved by educating themselves and volunteering. UVa has information available on social media, websites, newsletters, and reports. City has information at Charlottesville.gov/1085/Climate-Action-Planning (or/notify me – for news flashes). The county's activities are at Albemarle.org/climate (or /stewardship) and the C3 website is theclimatecollaborative.org.