Friday, September 16th, 2022
The Charlottesville Area Alliance Housing Team is excited to start educating the public on Accessory Dwelling Units (ADUs) and Missing Middle Housing, as well as the zoning implications that go with it.  Specifically, the Alliance wants to contextualize these housing concepts in terms of how they would benefit seniors to age in the community.
The panelists for the program were Ian Baxter, regional planner, Thomas Jefferson Planning District Commission; Alex Ikefuna, Office of Community Solutions, City of Charlottesville; and Stacy Pethia, principal planner for housing, Albemarle County.  The program was expected to be moderated by SSV President Sue Friedman.
Program Summary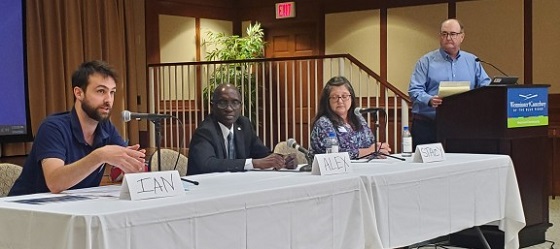 The program was moderated by SSV board member Bob Beard (far right above) who is a former news anchor with CBS 19 in Charlottesville and a longtime reporter in Washington, D.C., including CNN, NBC and Reuters. The three representatives of the area's housing programs were extremely knowledgeable of the affordable housing dilemmas faced in our area. Each program has studied the concerns and have goals for the future. Sources of future funding will be from public, private and nonprofit organizations. Knowing the need of those who require services and encouraging citizens to participate in the process is essential. Other concerns expressed were the desire for real time metrics, public outreach, and creating a sustainable infrastructure. An abundance of statics was available such as 40 percent of Albemarle County residents spend more than the goal of 30 percent of their income on housing. The City of Charlottesville has a goal of spending $10 million per year on affordable housing. They met this goal in 2021.