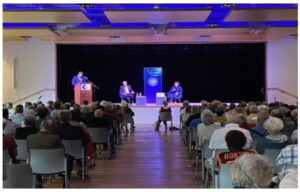 Your SSV partnered with The Center at Belevedere and the League of Women Voters Charlottesville Area to host the June 14 Candidate Forum for the VA Senate District 11 democratic primary election. The Auditorium at The Center was packed… as was the parking lot.  Both ran out of space!
Dan Schutte, News Director and Anchor for CBS19, Newsplex, smoothly moderated the Forum.  Candidates Senator Deeds and Delegate Hudson provided opening and closing remarks, with audience questions in between.  Topics ranged from gun control to tenure in the Senate to mental health to economists to a woman's right to choose.
Strong differences were heard on the topic of continuing part-time legislators versus professional legislators, as well as the value of Senate tenure.
The primary election is June 20th.  The audience was applauded for attending….and urged to vote!!
If you are subscribed to The Daily Progress, their article on this event can be accessed here.